Masonic Home Chapel
Each year since 2002, under the auspices of the Burlington County Office of Cultural Affairs and Tourism, the County Historian participates in the selection of sites for a project called " New Views".
The program is one of the means Burlington County employs to celebrate Historic Preservation Month and National Tourism Week. In the past, Burlington County artists were invited to create their own interpretation of one or more of the themed historic sites. This year's program will consist only of a themed tour, without the creative component involving artists. Stained glass is the art medium selected, showcasing some of the most representative and distinctive stained glass located throughout Burlington County. On May 15 th, 2010, County Historian Joe Laufer will lead a Bus Tour of 7 representative venues which contain an array of stained glass styles in Burlington County.
The anticipated 7 venues are:
1. Church of the Assumption, Monmouth Road, Wrightstown, NJ. This is the newest Roman Catholic Church in Burlington County (2009). It is a modern structure, but its stained glass windows are classic 19 th century "Munich Style" fabricated by the famous Zettler Stained Glass studios. They were salvaged from St. Aloysius Church in Gray's Ferry, Philadelphia which closed in 2000 because of demographic changes in that section of the city. Anticipated tour stop: 9:30 a.m.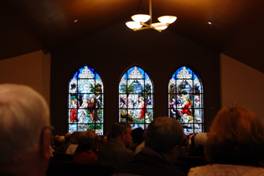 2. Masonic Home Chapel, Oxmead Road, Burlington Township, NJ. World-renowned stained-glass artist J. Kenneth Leap received the commission for the breathtaking 10 x 15-foot altar window and the side windows in the chapel which were installed in 1998. Depending on his schedule, Mr. Leap hopes to be present to orient us to the stained glass of the Chapel. Anticipated tour stop: 10:15 a.m.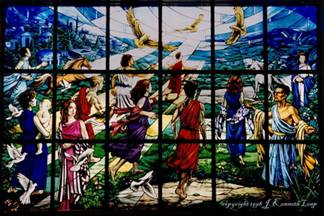 3. Christ Episcopal Church, Riverton, NJ, was established in 1854. A church was consecrated in 1859, followed by the present brownstone building, erected in 1884 on Main and Fourth streets. The rose window facing Main St. was created by Louis C. Tiffany and donated in the memory of Louis Godey by his son and daughter. Godey (1804-1878) was the publisher of America's first women's magazine and summered in Riverton for many years. On site tour guide: Father Richard Wrede, Pastor. Anticipated tour stop: 11:00 a.m.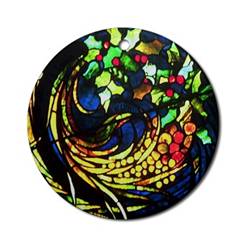 4. Dobbins Memorial United Methodist Church, 330 Union Avenue, Delanco, NJ . The history and descriptions of the historic windows in this 155 year old church (Established 1855) are found in a 110 page book with an introduction by historian Alice Smith. These classic windows were restored in 2001. They were initially fabricated by the William Reith Stained Glass Company of Philadelphia, PA. The windows were installed in 1903. The two premier windows which grace each side of the sanctuary are "Announcement of the Birth of Christ" and "Resurrection Morn." On site tour guide: Local historian, and Dobbins parishioner, Alice Smith. Anticipated tour stop: 11:30.

11:55 a.m. to 12:30 p.m.:BOX LUNCH - Dobbins Memorial United Methodist Church Hall
5. The windows of the Chapel of St. Mary at St. Stephen's Episcopal Church, Beverly, NJ consist of beautifully crafted windows in an array of the most vibrant colors representing the birds and plants mentioned in the Bible. They were created during the summer of 1987 by Frances Burckard Alpern, an American living in France. The tour will also include the magnificent religious windows of the main worship space of the church proper. Host: Rev. Robert Legnani, Pastor. Anticipated Tour stop: 12:45 p.m.

6. The Church of the Holy Eucharist, Tabernacle-Medford Lakes Road, Tabernacle, NJ, established in 1982 and dedicated in 1986, boasts of ultra modern stained glass windows integrated throughout the structure and centering on the theological themes of celebration, worship and the Sacraments of the Roman Catholic Church. The windows were designed and crafted by internationally acclaimed artist, Maureen McGuire of Phoenix, Arizona. Sections of the windows in the atrium celebrate the local pinelands environment, depicting holly, cranberries, and blueberries. The windows were installed in stages over a 9 year period from 1993 to 2002. Host: Rev. Andrew Jamieson, Pastor. Anticipated tour stop: 1:30 p.m.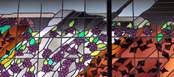 . . .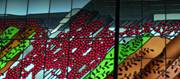 7. The windows of the Chatsworth United Methodist Church in Woodland Township, NJ were crafted by Mr. Gedi Gudauskas in 1984 and represent images of the flora and fauna of the New Jersey Pinelands. While in Chatsworth, we will visit the historic White Horse Inn and Buzby's General Store. Hosts: Lay minister David Gardner and members of the Woodland Historical Society and Festival Committe. Anticipated tour stop:2:30 p.m.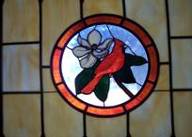 . . .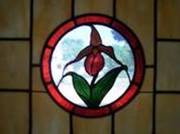 The narrated bus tour is scheduled for Saturday, May 15, 2010. Participants will gather at Smithville Mansion in Eastampton at 8:30 a.m. and the bus will board at 8:50 a.m and depart at at 9:00 a.m. Cost per person is $45, and includes a box lunch at Dobbins Memorial Church in Delanco. In addition to Mr. Laufer's commentary, brief descriptions of the stained glass art will be given at each venue, in some cases by the artist or a stained glass expert. The tour will end back at Smithville at approximately 3:30 p.m. Limited to 50 people.